I have been very absent from posting lately and for that I am so sorry. I have lots of posts in my head just waiting for me to prepare and take pictures. I have had a really valid reason for not posting though…I moved last weekend. I know, right? Who in their right mind moves during the holidays??? I guess I am not in my right mind. I certainly feel like a raving lunatic right now. If you know me, or have read about me on here, you know I have two homes. I reside in Florida with my husband when I am not flying. I also have a home in Atlanta. I fly out of Atlanta, and it is my true home. I am from Georgia and all my family, including 2 grown children live there. It behooves me to keep a place there for all of these reasons. My lease expired and I found myself searching for a new place. I found a wonderful home, with a fantastic kitchen and I am very grateful. But moving is a bitch. Plain and simple. No sooner than I unpacked the kitchen, then I am on a plane headed back to Boca to try and spend some time here before I am off to fly again. The only room in the new house that is even remotely organized is the kitchen. Priorities! I am feeling extremely burned out and exhausted. I usually churn out new recipes and baked goods because it is what I enjoy doing. Only right now, I have zero energy for being creative. So I drug myself to the Whole Foods today just to get some good produce and decided I was just going to juice for a few days because it is easy and nutritious. I filled my cart with produce and decided to zip through the deli area to grab some Engine 2 salsa when lo and behold what should appear?  Beyond Meat in the prepared foods deli.
Allow me to tell you about Beyond Meat. I first had it in Portland, Or. Whole Foods. It was amazing. The deli there had it prepared as a traditional chicken salad. The texture and appearance of Beyond Meat is exactly like chicken. In fact, it has been so long since I ate meat, initially it felt odd chewing it. It is possible that vegans of many years and especially "political" vegans, those that find meat repugnant, will not like Beyond Meat because it is so much like meat.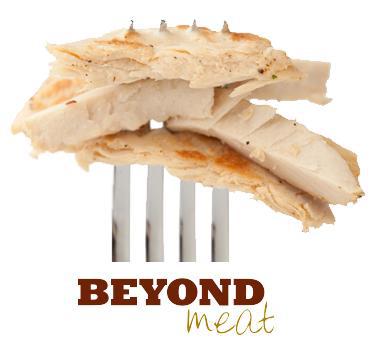 In a blind taste test, Mark Bittman, New York Times columnist and author of How to Cook Everything was actually fooled! Let's be brutally honest…most "fake" meat is just that, fake. It is the Munchos potato chip compared to the real Kettle chip. Often vegan meat substitutes are nothing but processed stuff and in no way healthy. Not only is this product delicious, but is good for you. One 3 oz. serving has a whopping 19g of protein, is gluten-free,dairy-free, Gmo-free and only 100 calories.
I often hear complaints  from people saying one impediment to them becoming plant based is they do not want to cook two different meals…one for them and one for the rest of the family. Problem solved! I feel sure the entire family will eat Beyond Meat and love it.In fact, my" meat and potatoes" only husband will soon be enjoying some of these Beyond Meat chicken free strips and I don't plan to tell him. He hates all vegetables and is mentally opposed to any "vegan" sort of thing. So look for a future post about how he was fooled too.
So, tonight I came home not only with fresh juicing produce, but also some spicy Beyond Meat fajita style chicken strips. I heated up some quinoa I had in the fridge and voila! Life is good.